Plantation Bay Golf and Country Club is a non-age restricted lifestyle community of over 1,500 homes residing on the border of Volusia and Flagler Counties. It is bordered on one side by the tree-lined scenic drive, "the Loop", and further East, only ten minutes through Walter Boardman Road (an estuary filled with wildlife), to the pristine beaches of the Atlantic Ocean.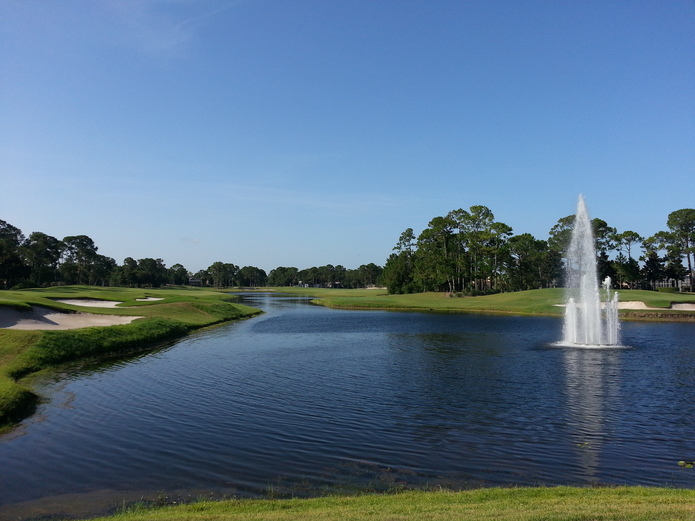 Plantation Bay is a beautiful gated golf community with spectacular views of fountains, lakes and golf courses. Nestled in 3,600 acres of nature interspersed with wide walkways, tree-lined streets, lakes and emerald green fairways, the natural beauty of this community makes it one of the most beautiful in the area. Homes in Plantation Bay range in price from $180,000 to $4 million. The community is comprised of numerous neighborhoods catering to many different lifestyles. You may select from villas, condos, maintenance-free townhomes, single family residences, estate homes and grand, luxury estates. Lot views vary from the lakefront to conservation, wooded and golf course vistas. Many homes feature 3-car and golf cart garages for storing all your toys. There is a gated outdoor storage facility for boats, trailers, and recreational vehicles as well. Community gates are manned by 24-hour security personnel with roving patrols.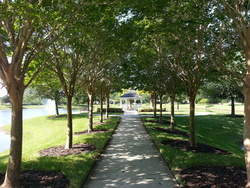 Prestwick Park offers a beautiful venue for walking and strolling, with a lighted fountain and a children's playground. Community events such as "Music in the Park" and the annual art and car shows bring residents together in a social atmosphere. The community is perfect for bicycling and walking with its scenic roads and neighborhoods.
Situated adjacent to Interstate I-95, Plantation Bay is close to shopping, beaches, universities, NASCAR Racing, and Daytona Beach International Airport. You are only a one hour drive to Orlando and only 30 minutes to the oldest city in America, St. Augustine.
Amenities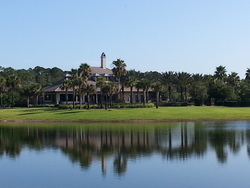 Whether you're a full-time or a seasonal resident, you'll enjoy the lifestyle and amenities offered in this lifestyle community. All of the amenities offered are by membership only. A number of packages are available to fit your personal needs. You can choose from a full or abbreviated golf membership, a sports membership, fitness membership or a clubhouse membership. For current information contact Janet Gallant, Membership Director, at 386-437-4844, Ext. 4817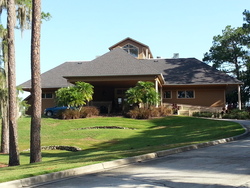 Plantation Bay offers 45 holes of championship golf, two full-service clubhouses, and a professional practice facility. The impressive Club de Bonmont clubhouse overlooks the lake and fountain and is reminiscent of the "Old South". Atop the impressive drive to the entrance, a valet will assist you with parking. Members can enjoy formal dining in the Main Dining Room, the many themed events that are held there, or casual dining and drinks in the Grille Room. This beautiful clubhouse has been transformed for many unforgettable weddings and receptions. The Prestwick clubhouse is situated just off the prestigious Hampstead Lane. Stop in for casual dining, cocktails, or to relax after a golf game.
The Plantation Bay Fitness, Spa, and Tennis facility offers state-of-the-art fitness equipment in its 7,000 sq. ft. complex. Start your daily exercise routine on the treadmills, ellipticals, upright and recumbent cycles, or join in group classes featuring Yoga, Pilates, water aerobics or cardio tennis. Avail yourself to weigh management consultations, fitness assessments, free weights, and if you wish, a personal trainer.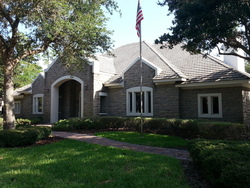 Plantation Bay features 10 lighted, clay Har-tru courts. Group and private tennis lessons are available as well as team clinics and cardio tennis. The complex also offers two pools – a heated lap pool and a zero entry pool with gradual access where you can participate in the water aerobics. Additionally, there are two lakefront Bocce Ball courts. Whether your pace is fast or slow, Plantation Bay Fitness Spa and Tennis offers options for your unique lifestyle.
The luxurious Spa at Plantation Bay relaxes body and soul. Enjoy the offerings of skin renewal facial therapies and the popular massage therapies, including deep tissue massage, hot stone massage, Swedish massage, and Reflexology. Manicures and other beauty services are also available.
Whatever your lifestyle, Plantation Bay Golf and Country Club provides a unique community where you can enjoy a luxury lifestyle. Bring the family. Bring your friends. You're finally "Home".
History
Marco Polo Park was a theme park located just off Interstate 95 between Jacksonville and Daytona Beach, at Exit 278 in Flagler County, Florida. The park's theme was based on Marco Polo's legendary travels through Europe and the Far East. The brochure provided at the park's entrance described it as such, "Like Marco Polo himself, you will be wonderstruck at the authentic Oriental splendor as you journey into the exotic four worlds of the Far East; Turkey, India, China, Japan...and beautiful Venice, your port of embarkation." The park featured rides, puppet shows, multimedia shows, and other attractions.
Park transportation included a steam train with two passenger cabs that ran around the perimeter of the park. An overhead suspended gondola system also linked various parts of the park. The section of the park representing Turkey included twin bumper car rides, one for adults, and one for kids. There was also a "flying chairs" ride. The India section of the park included a Log Flume Ride and a Flying Elephant Ride. The China section had a spinning Tea Cup Ride. A Giant Ferris Wheel was located in the Japan section of the park.
From Wikipedia: "The Japanese section included gardens that covered about 500 of the park's 5,000 acres. It included a replica of a Japanese fishing village, a Japanese botanical garden and a mile long waterway spanned by oriental bridges. Eighteen sampans, made of teakwood imported from Japan, carried visitors along the waterway. Two restaurants served tempura-style dishes. There were also a number of souvenir shops which sold a variety of Japanese-themed items."
"The first phase of Marco Polo park was completed and opened in early 1971. The park opened to considerable fanfare but it was never profitable. In 1975 the park closed after two fires ravaged the property just eight days apart. The park briefly reopened that year renamed Passport to Fun World, keeping the world travel theme. It closed for good in 1976. The remaining equipment was sold at auction on March 14, 1978. No structures from the former park remain. The road crossing I-95 leading to the park entrance, once renamed Marco Polo Park Boulevard, reverted back to Old Dixie Highway. The community of Plantation Bay now occupies the site of the former park. The park undoubtedly suffered from the opening of Walt Disney World in Orlando in October 1971. It was a difficult sell getting people to stop at a lesser attraction along the way to the Disney park."